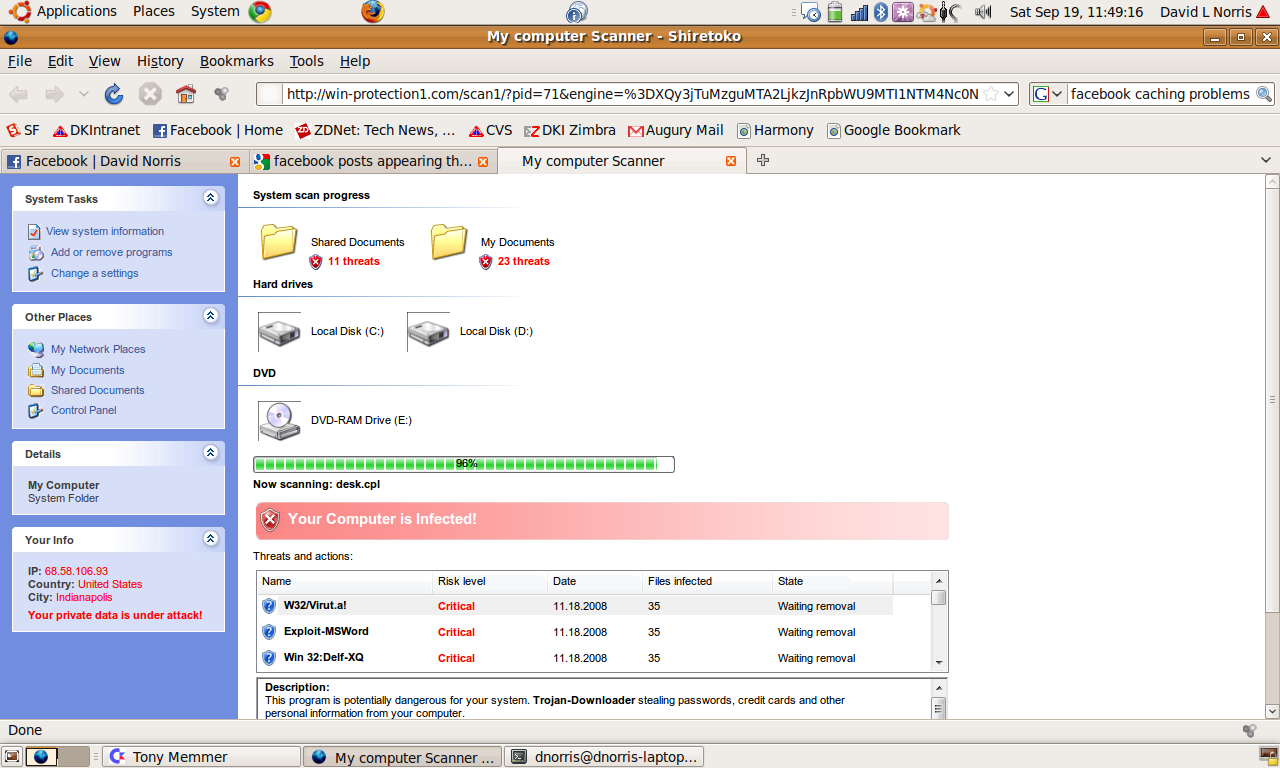 Background
There is
actually a relatively high rate of incorrect diagnosis of this medical
condition. Many sufferers who assume that they have a yeast infection tend to
treat themselves using conventional over-the-counter anti-fungal medications
when, in fact, they may have another condition that needs a completely
different treatment.
Bacterial
vaginosis is often confused with yeast infection as the symptoms can be very
similar. In a similar way, various skin conditions which can cause rashes and
lesions can also be confused with skin yeast infection.
Obviously
incorrect diagnosis and hence incorrect treatment can lead to significant
aggravation of the actual underlying medical condition. In order to make sure
that we diagnose correctly we need knowledge of what yeast infection
(Candidiasis) is and what the causes and symptoms are. It would also assist in
the diagnosis if we could find a simple home test for Candidiasis.
Yeast
infections are caused by microscopic bacteria called Candida which lives on the
surface of our bodies, in the genital areas, under skin folds and in our
intestine. Candida is essential to maintain a healthy balance and keep
unhealthy bacteria under control. Candida itself is keep under control by
friendly bacteria which, under normal circumstances, prevent the Candida from
multiplying out of control.
If the
normal balance in our body is disrupted the Candida can multiply unchecked and
they can then change from a yeast form into a fungal form which can penetrate
the walls of our intestines. When this happens the yeast and bacteria can get
into our blood stream and this can trigger infections in almost any part of the
body. The condition can then become systemic and in extreme cases can even
cause death.
Factors That Cause Candida
Overgrowth
Candida
overgrowth can be caused by a number of factors such as:
- Loss of friendly bacteria through
the use of antibiotics.
- An unhealthy diet that raises
blood sugar levels ? yeast love to feed on sugar.
- Diabetes causing an increase in
blood sugar levels which Candida will feed on.
- A weakened immune system caused
by recent illness and/or stress.
- Hormonal changes during the
monthly cycle or as a result of pregnancy.
- Sexual contact with an infected
partner can cause the infection to be transferred.
Typical Symptoms of Yeast
Infection
Typical
symptoms include:
- Itchy sore rashes on the genitals
and possibly under skin folds.
- Smelly curd-like discharges from
the vagina or penis.
- Infection of the mouth and throat
known as oral thrush.
- Nail infections ? thickened,
discoloured or damaged nails.
- A burning type of pain during
urination or intercourse.
- Possible fatigue and blurred
vision.
A Simple Home Test
There is
a simple home test which can be used to help you confirm whether you do, in
fact, have a yeast infection.
As soon
as you wake up in the morning and before you put anything in your mouth, spit
into a clear glass of cold water. Check the water every ten minutes or so. If
you see strings travelling down into the glass you have Candida yeast
infection. If the saliva sinks to the bottom of the glass this is an indication
that the infection is severe.
Treatment
Once
diagnosed it is important to treat the condition as soon as possible to prevent
possible complications that can be triggered if the condition becomes systemic.
I can recommend a holistic approach based on a combination of cleansing
techniques and lifestyle and dietary changes as the best way to get permanent
relief rather than the temporary relief that you may get from typical
over-the-counter treatments.
Frequently Asked Questions
QUESTION:
my period is late. negative pregnancy test. yeast infection. what the hell is going on?
my period is was due on the 25th. i took half a dose of the emergency contraceptive pill cause of i dropped one on the floor after some unprotected sex.
i also have a yeast infection.

ANSWER:
The old version of the emergency pill involves taking 2 pills. The new emergency pill only involves taking one pill. It's unfortunate that you were given the old version. As it was not taken correctly, it is unlikely it would had worked, but it doesn't nesseccerily mean you're pregnant.

It takes 2 to 3 weeks for HCG (pregnancy hormone) to show up on a pregnancy test. So, even if you were to be pregnant, it wouldn't show up until after the 8th August. You can ask your doctor for a blood test instead, but still may have to wait a few days for things to show up.

As for the yeast infection, you can pay and get treatment over the counter. Or go to a clinic and get treatment for free.

You also might want to think about STI (sexually transmited infection) testing too.

QUESTION:
Can a yeast infection change the answer of a home pregnancy test?
Can a yeast infection change the answer of a home pregnancy test? I'm 9 days late and I'm regular with my period but 3 days ago I got a yeast infection, I did the pregnancy test because we're trying to have a baby and my husband wanted to know if I was pregnant or not, the test was negative but I dont know if the infection can alter the results. Any help, thank you

ANSWER:
I found out I had a yeast infection after I took the home pregnacy test with my son. It was positive so in my experience, no it doesn't affect the test.

Now back to you - you are 9 days late? I would wait a few more days, clear up your infection and take the test again. remember to do it first thing in the morning, and then get yourself to your doctor.
I hope you get the results you want....
Blessings

QUESTION:
Will a yeast infection interfear with a pregnancy test?
I am alergic to amoxacillian and got a yeast infection from it. Lame my doctor even knew about it...ANYWAYS I was wondering if since I have a yeast infeciton if it would interfear with a true reading of a pregnant test. I haven't taken one yet and I was supposed to have my period today but it never came. Cross your fingers that I am pregnant! It would be the best thing for my husband and I. We want kids so bad.

ANSWER:
If you aren't pregnant go to http://www.mymonthlycycles.com and put in your period info and it will calculate when you will be fertile and ovulating. It is a free and helpful site.

Go to http://www.peeonastick.com for all the info on pregnancy tests....
No. There is no food*, no alcohol, no contraceptive, and no illegal or over-the-counter drug that can mess up your HPT results, and semen cannot affect the test. The only drugs that can affect pregnancy test results (in the form of a false positive) are prescription drugs that contain hCG (such as Profasi, Pregnyl, Ovidrel, etc.) They are prescribed for fertility treatments or other "female problems." If you are taking one of these drugs, ask your doctor how soon you can use a pregnancy test (different doses require different amounts of time to leave your system, so what works for one woman might not work for you.) *Food itself does not cause false results, but can affect how much urine you have and how dilute it is. Eating salty chips and drinking caffeine all day will result in more concentrated pee, whereas gorging on watermelon and ginger ale will result in lots of very dilute pee. Very diluted urine during very early pregnancy may result in a false negative. For best results, pee in a cup first and make sure your pee is medium to dark yellow.

QUESTION:
Plain and simple can a yeast infection screw up a pregnancy test?
I just want to know!
I took 2 test this past weekend and got no response. I just want to know if it is the test or something else!

ANSWER:
Im pretty sure it wouldn't affect the test, Visit your GP just to make sure though as you don't want to mis-diagnose pregnancy.

QUESTION:
can a UTI or a yeast infection cause a pregnancy test come up as positive?

ANSWER:
Nope, the pregnancy test detects a hormone called hCG not yeast or blood cells and bacteria in the urine.